Shrink Sleeves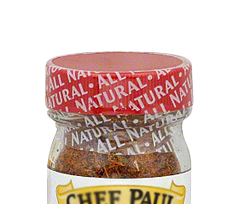 Shrink sleeve labeling is one of the fastest growing product decoration technologies especially within the beverage market. Plus it is the only one that provides 360 degree full coverage graphics that conforms to the shape of your product. Shrink sleeve labels can be applied to just about any size and shape container imaginable. They can be formed to the product with complex machinery or something as simple as hair dryer. Shrink sleeve labels are being widely used in the Food, Beverage, Consumer Product and Personal Care markets on a wide range of applications from primary labeling, to bundle packaging, to tamper evident banding. Midwest Label Supply can work with your team to ensure your shrink sleeve is specified and sized so the materials and printing are matched to meet all of your print quality and label performance expectations.
Custom Shrink Sleeves
Our high quality label printing combined with our inhouse label design option and converting capabilities make us the perfect partner for your next shrink sleeve project. Custom shrink sleeves are great for seasonal craft beers, limited edition beverages and more. Don't get stuck with an oversupply of labels if you don't need to. And don't get stuck with large tooling supplies for custom printed cans. Custom shrink sleeves are perfect for your next project. Our engineers and designers are waiting for you to reach out. Due to the machinery used to make shrink sleeves this product is one in which we require a higher MOQ (minimum order quantity). Reach out for quoting on orders of 500 or more.
Craft Beer Supply Chain
In light of the pandemic many beer companies have had to be lean and crafty. One issue is the amount of bar closures which has aided the canning and distribution efforts of many craft brewers while decreasing barrel production. Many of our clients have opted to use custom shrink sleeve labels as a way to eliminate the long lead times and heavy costs associated with custom printed cans. Get your custom shrink sleeves today. Many shrink sleeve manufacturers will sell brewers the cans with the labels already applied. We are an independent label manufacturer and only have capability to the provide the label. We can however provide a list of can suppliers in your area that you can work with.
Tamper Proof Shrink Film
Another major function of shrink film is to secure a product from tamering. For instance in the photo featured above, the shrink film label serves to safely secure the top from tampering and or knowing if someone else has opened the product in addition to serving as branding space for the product. Custom shrink sleeve labels used as tamper evidence can serve well on consumer products but more importantly for medical applications in which security and privacy is and issu.
We found this video of the shrink sleeve process to be informative although it is not from us: